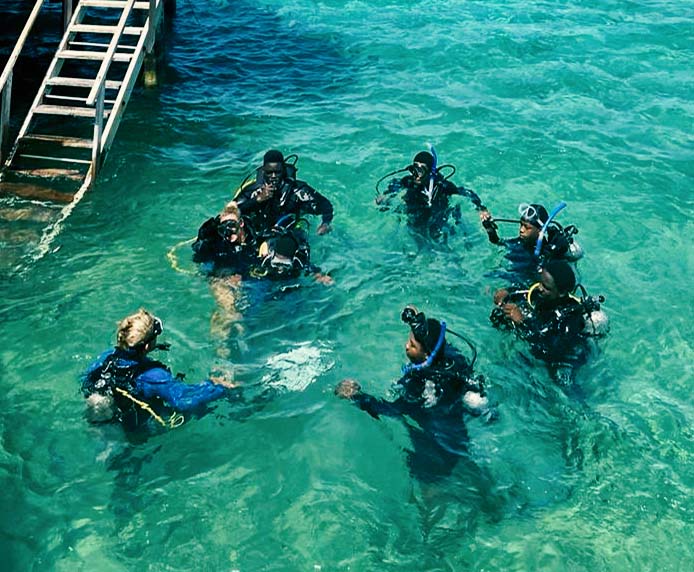 The programs were conducted by the Lodge out of its small profit.  However as the programs and the demand for services has grown, the lodge is simply unable to meet the demand and support for these operations.
That has now changed with the creation of the Small Hope Bay Foundation.  The Foundation is continuing to teach residents how to swim, snorkel, and dive, and about the marine life that exists around the Bahamas.
Presently the Foundation contracts Professional Association of Diving Instructors [PADI] certified dive staff at the Lodge to provide lessons to local students.  The Lessons include basic swim lessons as well as PADI Diver certification.  In addition to a trained professional staff, Small Hope Bay Lodge has infrastructure and equipment (e.g., dive gear, boats, scuba tank air fill facility) to provide the Foundation to use at an "at cost" basis.  This allows the Foundation to extend and leverage resources to advance the mission that would otherwise be prohibitively expensive.
The goal of these programs are two-fold: (1) to prepare disadvantaged youth for a future sustainable livelihood and career development; and (2) to foster and enhance the enjoyment and appreciation of the natural environment.  As a result, youth will be empowered with the skills and opportunities to work in the tourism-based economy on Andros, throughout the Bahamas, and beyond.  This skill training will help locals qualify for well-paying jobs on Andros Island as dive professionals and guides, of which the majority of positions are currently held by international divers.  These programs will focus primarily on children, although some swimming programs may be made open to adults to enhance their enjoyment and appreciation of the natural environment on the island.